A HIGH SCHOOL DIPLOMA CAN BE A REALITY!
Enroll in the USD 320 Virtual School
Watch our enrollment video! CLICK
GREAT reasons to contact the Online Learning Lab at the Wamego Tech Center:
Start working on your High School Degree quickly and at your convenience!
Edgenuity Inc. award-winning online curriculum!
Your previous course credit can typically be transferred to our location so you can pick up where you left off!
Flexibility that works with your schedule and your busy life!
Work from our quiet, comfortable, private computer lab or work from home 24/7!
Low cost - $100 per semester for qualifying individuals / refund incentive for credits completed
Adult learners welcome - those under 19 are subject to approval.
The Lab is the perfect location to take a "proctored exam" for college credit or other professional exams.
Phenomenal positive support and encouragement for you!
Dozens of graduates have gained a diploma through our virtual program!
Available courses Enrollment Forms
Policy Handbook Credit card payment form
ONLINE LEARNING LAB
~ Mondays 8am - noon
~ Tuesdays 8am - 9:30am
11:30am - 1:30pm
~ Wednesdays 8am - noon
~ Thursdays 8am - 9:30am
~ Fridays 8am - 9:30am
11am - 1:30pm

~ open year-round except July
- a division of the Wamego Technology Center -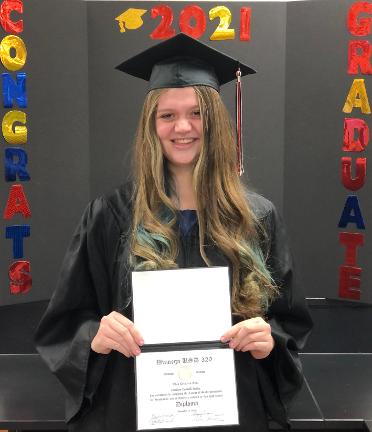 USD 320 Virtual School
Wamego High School
801 Lincoln Street
Wamego, Kansas 66547
Office: 785-458-7808

Online classes now make it easier and more affordable than ever to earn a high school diploma! USD 320 is accepting enrollments for the Virtual School housed at the Wamego Technology Center at Wamego High School for adult learners. This is a tremendous resource for anyone wishing to complete his/her high school degree through an online virtual classroom. The Edgenuity system utilizes instructor-led video sessions along with a host of other resource materials to help students conquer classwork at their own pace. Enrolled students may utilize the Tech Center's classroom at WHS, or they may work from home or other locations with an internet connection. Cumulative course exams are required to be taken in the classroom.
USD 320 has the distinction of being a Kansas State Department of Education Virtual School, and we truly offer an incredible opportunity for students seeking a high school diploma. This is not a GED program; we offer an actual USD 320 high school diploma achieved by completing 21 high school credits. We provide a strong support network, encouragement, and a great atmosphere for learning, and Edgenuity online courses will work well for those who are committed to succeed. Since its establishment, USD 320 is proud to have enrolled a great number of students in our Virtual School and presented many of them with diplomas!
The USD 320 Virtual School enrollment fees are affordable, and there is an opportunity for free enrollment as well. Any prospective enrollees under the age of 19 are subject to approval.
For more information on enrollment and policies, call 785-458-7808.